Burston School Strike
The longest strike in history
A new film about the 1914 Burston School Strike is in the making and it's easy to see why. This story has it all…
The location: Burston School in rural Norfolk
Burston village school was cold, damp and dark. The children of poor farm workers, pupils were hungry and lice-infested. When they made it to class, their education was basic. But often they didn't – farmers frequently forced them to join their parents in the fields.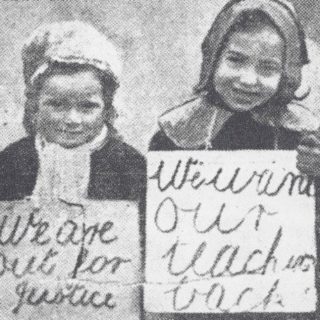 The heroes: teachers Kitty and Tom Higdon
Kitty and Tom arrived in Burston in January 1911, having been fired from their jobs in another Norfolk school for attempting to raise standards. They attempted the same again in Burston. They lit a fire to dry the children's clothes, to heat water for baths and to cook nourishing stews. They taught their pupils not only letters and numbers but about the world beyond their harsh lives in Burston. For the first time, the children aspired to a better life. And their parents did too: Tom was urging them to unionise.
The villain: the Reverend Charles Eland
The Rev Eland had a big salary, a big rectory and, it seems, a big ego. He felt the poor should know their place and he felt threatened by the Higdons' teachings on equality and justice. When he and other wealthy locals were voted off the parish council and replaced by villagers including Tom, the Rev took his revenge. As head of the school board, he fired Kitty for lighting a fire without asking and not curtsying to his wife. The National Union of Teachers represented Kitty in an inquiry but it was no good. At the end of March 1914, the Higdons started packing.
The chorus: the striking school children
On 1 April 1914, the Rev and the new teacher entered the classroom and found it nearly empty. "WE ARE GOING ON STRIKE TOMORROW" had been emblazoned on the blackboard the day before. Outside, 66 of the school's 72 children were marching down the street led by 13-year-old strike leader Violet Potter, playing the accordion. They waved placards declaring, "We want our teachers back" and "Justice". When they marched past the rectory, they paused to boo.
The feel-good factor: solidarity and celebrities
The villagers set up a temporary school on the village green and Kitty started teaching them again. Furious, the school board fined 18 parents for not sending their children to the state school but families clubbed together to cover the fines. The story spread and Suffragist star Sylvia Pankhurst visited Burston, along with union legend and MP Tom Mann. In 1917, trade unions, Labour party branches and even Leo Tolstoy helped fund a new school building, which strike leader Violet Potter opened in front of a jubilant crowd.
The legacy: the UK's longest ever strike
The Higdons ran the 'strike school' for 25 years. Tom died in 1939 and Kitty, now 75, closed the school a few months later. The impact Kitty and Tom had on their pupils and their families has never been forgotten. Hopefully we'll see their story on the big screen soon.