Canon Steven Saxby – chair of the Faith Workers branch of the union Unite — on the pressures of working in the church and why the clergy, of all faiths, need the support of unions.
1 – Bullying is a big issue
People tend to be surprised there is a union for the clergy – we open our doors to everyone, from vicars to Methodist and Unitarian ministers to imams and rabbis. The union's work is vital: people look to the church and other faith organisations thinking everybody is lovely towards one another, but sadly this isn't always the case.
Bullying is the number one issue for our members and it comes from all directions: the congregation, colleagues and peers, and the hierarchy (bishops and others). Don't get me wrong, it's not an epidemic as it affects only a minority of church workers. But when bullying affects someone that person is vulnerable. The union holds training sessions for members covering important topics such as dignity at work and bullying.
2 – We're lone workers, which puts us at risk
A lot of people call the union helpline because they don't have the solidarity and support of other workers. The biggest concern about lone working is personal safety. Anyone can come to your front door: clergy have been murdered in their own homes. In fact, my predecessor was attacked and almost killed in the vicarage where I live. Most of us are not classed as employees, so churches and faith organisations don't take responsibility for the health and safety of the clergy.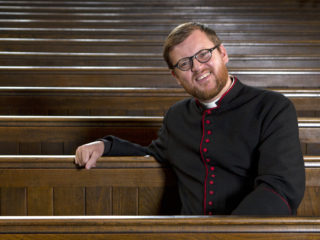 3 – Dealing with disciplinary issues
There are no working provisions and employment rights for most clergy and internal disciplinary procedures are not always followed correctly. For an individual up against disciplinary procedures their whole livelihood is at risk, including pay and housing provision for their family. When you're in that kind of position, you don't always think straight, so having someone who can be with you and accompany you through the process is vital.
Union reps can help negotiate disciplinary issues, and stop them from turning into legal battles. We're trying to encourage the Church of England and others to spend more time on informal negotiations, which is in the best interests of everyone (and we have developed some guidelines to inform this process).
4 – Tackling discrimination in the workplace
We like to think churches and faith institutions promote equality but discrimination is rife, from prejudice around age, gender and race, to disability and sexuality. It mostly comes from the hierarchy and affects people already in-post, as well as those wishing to join the clergy.
5 – Working towards social change
Joining the union is not just about personal interest and protecting ourselves; it's about coming together in solidarity with our peers and the wider community of workers. At Unite Faith Workers we're encouraging our members to raise awareness of key issues affecting their congregation. I've been campaigning in Walthamstow, where I live, on issues affecting the community, such as benefit sanctions, forced evictions and the bedroom tax. It's about building social change.